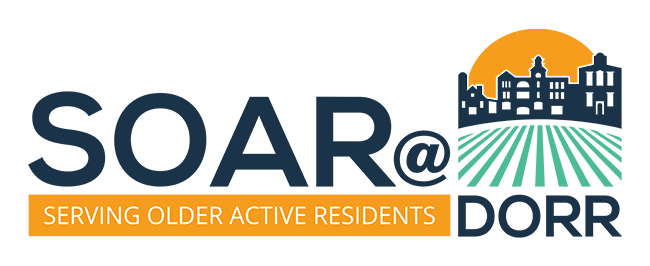 SOAR@Dorr Monthly Activities
New and previous programs have begun this month at Dorr Township!  Please come check us out-Don't be shy!   Please check the calendar regarding our upcoming events here.   Social distancing and mask wearing are required.   There are special events that are planned which require registration and occasionally a small fee.  There is no registration necessary for our Drop-in Programs:  Advisory Council, Bingo, Bunco, Conversation Café, Crafting, Games@SOAR, Pinochle SOAR Reads Book Club or Audubon Meeting.  To register for other programs, you can sign up in person, call Laura Wassinger at (815) 338-0125 or you can email Laura at lauraw@dorrtownship.com.
Make sure you check our NEWS & EVENTS section of the Dorr Township website also to see what Special Events we have going on!  Some upcoming events include our inaugural debut at The Annual Christmas Tree Walk at our beloved Opera House in Woodstock, a Winter Paint n' Sip, and a Holiday Party with live entertainment and raffle!  We need ALL of  YOU to help make these events a fantastic success!  
Advisory Council 

NEW!
There are monthly Advisory Council meetings from 12:00 pm-2:00 pm, the first Wednesday of every month.   Please bring your own lunch, ideas, suggestions and even complaints to determine the direction of future activities.  Beverages and desserts will be provided.
Audubon Society Meeting

NEW!
The McHenry County Audubon Society welcomes you to their monthly meetings.  Come and learn about what the McHenry County Audubon Society is, what they do and how you can be a part of a really incredible group.  The meetings are hosted on the second Thursday of the month from 7:00 pm-9:30 pm.
BINGO
Bingo is on the first four Thursdays of the month.  Coffee and refreshments begin at 11:00 am with Bingo starting at 11:30 am.  Catholic Charities will be offering lunch approximately twice a month and request a $5.00 donation.  Please check out the dates and the menu for this month here.  Also, don't forget $3.00 for "the pot."
There will be a special Thanksgiving Bingo & Luncheon this month.  Details will be coming soon.  Plan for a fabulous feast while we count our blessings on November 18th.
SOAR READS BOOK CLUB NEW!
Who doesn't love to curl up with a good book?  With winter approaching, it is a perfect time to join SOAR Reads-our newest club!  Members will be part of the process of deciding what  books to read from a wide variety of different genres and authors.  We will meet on the first Monday of the month to discuss how much we loved (or didn't love) our latest read.  Come on-You know you always wanted to join a book club…now is the perfect time!  Our next planning meeting is Monday, December 6th from 1:00pm to 3:00pm-read more about it here.
BUNCO 

NEW!
Bunco is offered twice a month..  Please check the calendar for upcoming dates.  If you're not familiar with this fun, easy to learn dice game-no worries!  It's a great game to play while you have stimulating conversation with your friends-laughter is guaranteed!  There is a $2.00 fee for this program.
Crafting
NEW!
Come on over and see what our crafting crew is up to on the 2nd and 4th Fridays of the month from 1:00 pm-3:00 pm.  Join Marie as she gets us started with this fun and innovative new program!  No skills required!  You can bring your own project you are working on, or you can participate in creating one of  the new ideas Marie and the "Crafting Crew" have collaborated on.    We are currently working on ornaments for the Annual Christmas Tree Walk at the Woodstock Opera House.  Please join us in making our Christmas Tree the star of the show!
**November and December schedule will vary due to the holidays.  Please check the calendar to confirm dates or call Laura at (815) 338-0125.
CONVERSATION CAFÉ

NEW!
Come join us for Conversation Café, which is on the 2nd, 3rd and 4th Wednesdays of the month from 1:00 pm-2:00 pm.  Let's get talking about what is happening in and around Woodstock, as well as global topics.  There will be special guests monthly to share their knowledge and thoughts on a wide variety of interests and topics.  We will have two special guests this November.   Captain Matt Hedges, from the Woodstock Fire Department, will be talking to us regarding different steps we take so we can all stay safe in our homes.   We will also welcome Laura Turasky from Senior Citzien Volunteer Network.  Laura will be talking to us about different programs available to Seniors such as transportation, friendly visits and calls, medical equipment loans and volunteer opportunities for those interested in spreading some love.
Games@SOAR 

NEW!
Different games will be offered weekly on Mondays.  Please check the calendar for times and details on which game is played each week.  We will play a wide variety of different board games, brain teasers, word games and even bags.   Occasionally, we will have some surprise visitors to teach us a few of their favorites and show you something new.  Come join the fun and show us what you've got-friendly competition is always welcome!
MAH JONGG
NEW!
Mah Jongg is a game that originated in the mid to late 1800's.  It is believed that people in the US began playing it in the 1920's.  The game of Mah Jongg has recently become popular once again.  The game has been proven to help slow dementia,  improve memory skills, brain function, mental health and teaches patience.  Come and be part of Dorr Township's Mah Jongg community. Mah Jongg is played every Friday morning from 10:00 a.m. to 12:00 p.m.  The very talented Dolly Gibson is at each drop in to assist everyone in learning and developing their Mah Jongg skills!
TECH CONNECT 

NEW!
Tech Connect is an exciting new program we will be offering…more details coming soon!
TOPS

NEW!
TOPS (Take Off Pounds Sensibly) will be offered every Wednesday from 9:30 am-11:00 am.  The initial meeting is at no charge.  There is a yearly fee of $30.00 thereafter required by TOPS.
Pinochle Club
PLEAS FOR PINOCHLE PLAYERS!  Pinochle is played every Friday in the Community Room from 1:00 pm-4:00 pm.   *Many of our current players have flown south for the winter, so our current players would love to welcome new players!   No experience necessary-they are excellent instructors!  Come for the game, but stay for the conversation!  Coffee and refreshments served.  *There is a $1 fee for pinochle every week.
OTHER AMENITIES 

NEW!
Lending Library for both books and puzzles
Permanent Puzzle Table
Casual Café Seating
**Please check out our News Section to learn more about our NEW Soar@Dorr program!