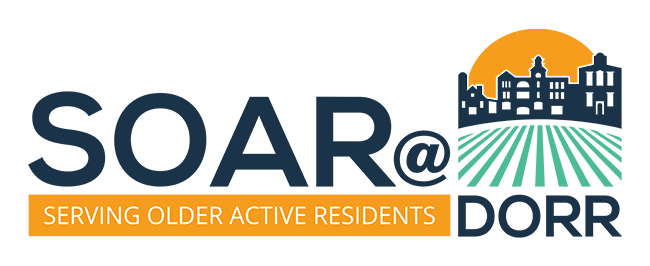 SOAR@Dorr Monthly Activities
We have been extremely busy this past year adding many new programs at SOAR@Dorr!   Please check the calendar regarding our upcoming events here for May and here for June.   There are special events that are planned which require registration and occasionally a small fee.  If at any time you or someone you know cannot afford the fee, please speak privately to any one of us at the Township.  WE want YOU to be HERE!!
There is no registration necessary for our Drop-in Programs:  Advisory Council, Art Work, Balance, Strength & Stretching, Beading & Beyond, Bingo, Bunco, Canasta,  The 5 C's, Cribbage, Euchre, Handcrafted, The Leicht Brigade, Loss of a Child Grief Group, Mah Jongg, One Step at a Time, Pinochle, Poker, SOAR Reads! Book Club, Tai Chi or the Audubon Society Meeting.  To register for other programs, you can sign up in person, call Laura Wassinger at (815) 338-0125 or you can email Laura at lauraw@dorrtownship.com.
While May might have been one for the record books with all of our newest offerings, we still have a few tricks up our sleeve~check out what's coming in

HOT

in June!
Tech Wizards is our newest program!  This once monthly offering is for all of us that have those pesky little problems with our tablets and phones.  Can't figure out why it keeps messing you up?  (It's not you-really!)  Bring your device in to our very own Tech Guru who will solve those annoying problems we ALL  encounter with technology!  She will fix you right up!  Scroll down to TECH WIZARDS to learn more!  
Sub-Bingo!  Have a hankering for a sub sandwich?  Look no further-Bingo & Subs….it's the best thing to happen to sub sandwiches!  
It's been a hot minute since we served you a slice of pizza-so make sure to sign up for our Pizza & Bingo day!  And, you know we will always have to make sure you get your veggies, so we'll toss in a little salad, too! 
ADVISORY COUNCIL
SOAR@Dorr wants YOU! There are monthly Advisory Council meetings from 12:00 pm-2:00 pm, the first Wednesday of every month.   Please bring your own lunch, ideas, suggestions and, yes, even your gripes and concerns to determine the direction of future activities.  Beverages and desserts will be provided.  Your voice and opinion matter to us!  
ART WORKSHOP
Join us for a fun art workshop, offered once a month on Fridays!  This is your opportunity to let that creative part of you shine!  Each month there will be a new project!  Check the calendar to see what's up this month!  Reconnect or begin to develop that artistic side of you!
BALANCE, STRENGTH & STRETCHING
Need to get a little more movement in  your day?  Have you been thinking about starting a gentle exercise program and were not sure where to begin?  Come to this drop in class that is offered each Monday.  The class will begin seated and progress to whatever level you are comfortable with.  Equipment is provided by Dorr Township but you are welcome to bring your own, too.  Each class is $5.00 or you can purchase a Wellness & Fitness Punch Card, eligible for any 5 fitness classes (this class or for Tai Chi)  for $20.00-such a deal!  Learn more about this awesome strengthening class here.
BEADING & BEYOND
Why should you consider Beading?  Because studies show that it reduces stress while increasing our energy levels.  It helps us develop the creative and imaginative parts of our brains.  And, it improves our visual perception and memory.  We could all use ALL of those things, however, it is also a great way to meet new people, develop friendships and make connections with others-all while you come away with a cool new project!   We may also have a few cool new projects to work on other than beading.  But, you'll have to come to find out what those things could be!   Join us on the 2nd and 4th Mondays of the month for Beading & Beyond and get your creative juices flowing-all while you get to meet a few new people!  That's what we call a "Win-Win".
BINGO
Bingo is on the first four Thursdays of the month (unless otherwise noted by a SPECIAL EVENT).  Coffee and refreshments begin at 11:00 am with Bingo starting at 12:00 pm.  SOAR@Dorr often has one or two special lunch events planned each month for a $5.00 fee.  Please check out the dates and the menu for June!  Also, don't forget $3.00 for "the pot."  
June 8th we will be having sub sandwiches
June 22nd we will be serving you up a big, beautiful SALAD!  AND, maybe, we might throw in  a few slices of Napoli's famous pizza!

$5.00 each for the June lunches and you MUST REGISTER and PRE-PAY in advance!   Visiting Angels will be sponsoring a special dessert after your pizza-and a cool raffle prize to boot! 

 
BOOK CLUB-SOAR READS!
Who doesn't love to curl up with a good book? Now is the perfect time to join SOAR Reads! Members will be part of the process of deciding what  books to read from a wide variety of different genres and authors.  We will meet on the first Monday of the month to discuss how much we loved (or didn't love) our latest read.  Come on-You know you always wanted to join a book club…now is the perfect time!  Our next SOAR Reads! will be on Monday, June 5th.  We will be discussing the book Lessons in Chemistry by Bonnie Garmus.    On July 3rd, from 1-3pm, we will be discussing the book  The Sewing Machine by Natalie Fergie.  Check out our local book store, Read Between the Lynes to order your copy!
BROWN BAG LUNCH & MOVIE
Bring your lunch and come watch some of the latest flicks with us on our new screen!  Movies will be shown twice a month on Tuesday afternoons from 12:30pm to 3:00pm.  This June you are in for a treat!  Our first movie stars everybody's favorite-Tom Hanks!  This time he is playing a cantankerous old soul in  A Man Called Otto.  If you read the book, even if you've already seen it…this one is worth a second watch!  And, speaking of worthy, we will also be showing Still, A Michael J. Fox Movie.  This inspiring documentary will move you to pieces and give you a few laughs about the  beloved, iconic actor.  Calendar coming soon…Click on the above links for dates and times.
BUNCO 
Bunco is offered twice a month on Tuesdays (the 1st and 3rd of each month) from 1:00pm to 3:00pm.   Please check the calendar for upcoming dates.  If you're not familiar with this fun, easy to learn dice game-no worries!  It's a great game to play while you have stimulating conversation with your friends-laughter is guaranteed!  There is a $2.00 fee for this program.
CANASTA
Canasta, also known as the Argentine Rummy game, was originally created to be a quicker version of Bridge.   Canasta gained quick fame in the 1950's and is still enjoyed by many today. Canasta will be played on Wednesdays from 1:30pm to 3:30pm!  Check out the calendar for dates!
"THE 5 C's":  COFFEE, CHOCOLATE, COOKIES, CHIT CHAT AND COLORING
This program has been revamped!  Please scroll down to  for Just Add Color to learn more about it!  
CRIBBAGE
Ahh-the classic game, Cribbage, which has been around since the 17th Century in England, is out latest offering at SOAR!.  Cribbage is played on Wednesday from 9-10am.  We've got the Cribbage boards and the cards-now we just need YOU!  Check out our May calendar, or our latest June calendar, for dates and times!
EUCHRE
Our Euchre group is really growing!  Come join the fun and the camaraderie!  Euchre is a fun, social game that is played in groups of 2 to 4 players, usually played with the thirty-two highest cards, the aim being to win at least three of the five tricks played.  If that sounds a little complicated, have no fear, the great Roxie Kaminski will be here to lead the group and help you get the hang of it!  Euchre will be played on Tuesday afternoons from 1:00 pm to 3:00 pm.
FIT & STRONG
Fit & Strong is our latest and greatest offering at SOAR@Dorr!  This class is FREE-yep.  You read that right!  This progressive exercise class is offered twice a week and focuses primarily on your lower body strength (legs, glutes) to help prevent falls, increase flexibility and reduce joint pain.   This class is awesome if you have arthritis-as you will be building lower body muscle, taking the stress off of your joints. Each class consists of a warm up, light aerobic session, weight training and then a cool down.  Modifications will be demonstrated for those that need them.  All of the equipment used is provided at no cost!  Regular Fit & Strong classes begin on Tuesday, April 11th.   Please sign up for FIT & STRONG at Dorr Township, or call Laura to register as class size is limited to give each individual person the proper individualized attention.  *This class is currently full, but may be repeated in the Fall.  Please check back or ask Laura!  
HANDCRAFTED
Sewing, crocheting and knitting!  Oh my!  We're going to get you "hooked" on coming over to SOAR@Dorr to work on your latest projects!  Bring your latest project and visit with others to see their latest and greatest works of art-OR-come work on a donation piece here!  We have a beautiful and lovely inventory of donated yarns.  HandCrafted  meets on Friday afternoons from 1-3.
JUST ADD COLOR-NEW"ISH"

Need to relax a little?  Take the stress out of your day, week, or month?  Did you know adult coloring books are designed just for that?  Research shows that adult coloring promotes mindfulness, improves motor skills and vision, improves focus and relieves stress by relaxing the brain.  And, it's just plain ol' pretty.  Seriously, come beat the heat and chill with us…we will probably put out a few cookies, too!  More information coming soon-begins in JULY!  
THE "LEICHT" BRIGADE
Jeff Leicht (pronounced "light") was one of our wonderful seniors who sadly passed away very unexpectedly in 2022.  Jeff was an avid reader, admired the arts and loved a good round of trivia.  Join us once a month as we head out one night to a local trivia venue and honor Jeff as we participate in one of his favorite pastimes.  Join The Leicht Brigade as we head to Stage Left Café in Woodstock on Thursday, March 9th,  from 7-9pm!
LOSS OF A CHILD GRIEF GROUP
Organized and led by Roxie Kaminski and Colleen O'Brien,  Loss of a Child Grief Group  meets monthly on the last Tuesday of the month and is offered to those who would like to share with others in their love and grief for the loss of their child.
LUNCH DATE
Come on out and join us for lunch!  Each month we will be meeting at a local restaurant!   This is a great way to get out, meet some new friends and patron our awesome, local restaurants.  Mark your calendars for this month!  This month we will be heading to El Niagara on Wednesday, May 31st from 11:00 am to 12:30 pm.   And, in June we will be headed to an iconic Woodstock establishment, Chop Suey Hut!  If you know, you know…Pre-registration is required for this event so the restaurant can set aside enough seating for us!  Please arrive at 11am sharp as they will NOT be able to seat us any earlier than our 11am reservation!   
MAH JONGG
Mah Jongg is a game that originated in the mid to late 1800's.  It is believed that people in the US began playing it in the 1920's.  The game of Mah Jongg has recently become popular once again.  The game has been proven to help slow dementia,  improve memory skills, brain function, mental health and teaches patience.  Come and be part of Dorr Township's Mah Jongg community. Mah Jongg is played every Friday morning from 10:00 a.m. to 12:00 p.m.  The very talented Dolly Gibson is at each drop in to assist everyone in learning and developing their Mah Jongg skills!
PINOCHLE
Pinochle is played every Friday in the Community Room from 1:00 pm-4:00 pm.  No experience necessary-they are excellent instructors!  Come for the game, but stay for the conversation!  Coffee and refreshments served.  *There is a $1 fee for pinochle every week.
POKER
Calling all card sharks!  Get your poker face on and head over to SOAR@Dorr for a little friendly competition.  Poker is every Wednesday from 10am to 1pm.  Bring your poker face and skills and we will provide the refreshments!
SENIOR CARE VOLUNTEER NETWORK
A representative from Senior Care Volunteer Network will be at SOAR@Dorr quarterly on Thursdays from 11:00a.m. to 12:00 p.m.  Check the calendar for dates!  Senior Care Volunteer Network is a not for profit organization that coordinates many different services for seniors from transportation to appointments, yard work and minor home repairs, durable medical equipment lending closet, friendly phone calls and visits and even shopping and errands.  Come by to find out more about the amazing services they have.  Who knows?  Maybe there is even a way you could volunteer and help make a positive impact in someone else's life!  Bingo is at about the same time, so bring your lunch and stay for a while!  Check out more information about SCVN here.
SHIP COUNSELING
We are very excited to bring to you here at SOAR@Dorr SHIP Counseling!  Medicare A, B, D and supplemental insurance confuses everyone!  SHIP stands for Senior Health Insurance Program-a government program that trains individuals to help counsel and GUIDE senior citizens in choosing the correct insurance programs.   There is NO selling of insurance!   There will be a certified SHIP Counselor at SOAR@Dorr once a month-call us to confirm dates! (815) 338-0125.  Just bring your questions!  Learn more about SHIP Counseling here.  A SHIP Counselor will be here each month-please check the calendar for dates.   You must register for this appointment!  
SUPPER CLUB-

NEW!
Supper Club is our latest offering at SOAR@Dorr.  Each month we will visit a different McHenry County restaurant for dinner.   Bring a friend, make a friend….or both!  Please register for this event so that we can make reservations for our group!  This month we will be having a bite of pasta and a taste of wine, should you fancy!  Join us on Thursday, June 15th at Da Baffone in Crystal Lake from 5-7pm!  It is located near the train station in downtown Crystal Lake.  If you've never been, you are in for a treat!  Vivi la vita!!
TAI CHI-NEW
Tai Chi is often called "meditation in motion".  It is a wonderful, gentle form of exercise that maintains strength, improves your balance and your flexibility.  Classes are on Thursday mornings from 10:00am to 11:00am weekly.  Each class is $5.00 or you can buy a 5 class punch card for $20.00!   The Wellness & Fitness punch card can be used for any fitness class at SOAR!   A new form of exercise AND a deal on it, too!  What more could you ask for?!
TECH WIZARDS-NEW
Got a cell phone?  A Tablet?  An Ipad?  Questions always come with technology-no matter your age (well, unless you're a teenager and know everything)!  We could all use a little help!  So, if your grandchild does not have time to fix your technology problems this month, then bring your device to SOAR@Dorr!  Our tech gurus will get you up and running!  This opportunity is offered once a month and we appreciate it if you would kindly sign up for this!  If you have a tablet from MC Tech Connect, feel free to bring that, too! Learn more about Tech Wizards here!
TOPS
TOPS (Take Off Pounds Sensibly) will be offered every Wednesday from 9:30 am-11:00 am.  The initial meeting is at no charge.  There is a yearly fee of $30.00 thereafter required by TOPS.
THE WEDNESDAY WALKIE TALKIES
This super fun walking group is taking things to a whole new level!  Exercise has never been so easy going!  Led by our amazing Monica, you will enjoy walking around some of Woodstock's amazing parks, our beautiful historical square and some of our most picturesque quaint streets-you won't even realize how many steps you are getting in.  Come on your own, bring a friend, or make a new one while walking and talking.  Learn more about it here.
OTHER AMENITIES 
Lending Library for both books and puzzles
Permanent Puzzle Table
Casual Café Seating
**Please check out our News Section to learn more about Special Events at Soar@Dorr and our Soar@Dorr Photo Gallery!